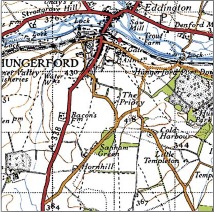 The mid 1940s was a period of intense regeneration and renewal in Britain. The Second World War had been won, but at a vast financial and human cost. The physical damage and disruption, though less severe than in many other countries, was considerable. Atlee's post-war government promised a new society forged from the wreckage of the old, although the immediate reality was one of bomb sites, creaking infrastructure and continued food rationing.

The war had proved the importance of the railways in moving vast numbers of troops and evacuees, but it was to be their last great contribution to the nation's transport needs. The car had taken over as the transport method of
choice with over 2.4 million vehicles registered in Britain by the end of the 1940s as opposed to about a quarter of a million in 1921. Car travel increased social as well as personal mobility and also led to an increasing demand of accurate mapping.

Britain was home to around 50 million people in 1951, not far short of its population half a century later. Many of the urban areas revealed by the New Popular Edition maps are almost as large as they are today, but the maps also reveal ancient features that were soon to disappear for good: for many other changes were on the way. If the Old Series describes the age of the horse and car, the Revised New Colour that of the railways and the Popular Edition that of the dawn of the motor car, the New Popular Edition of the late 1940s is perhaps the map of the planner. Many schemes, some national, some local, were proposed in the post-war yars, including motorways, airports, new towns and retail parks. Many were implemented, others were not. The New Popular Edition elegantly captures the raw material which planners and developers were to use, for better of for worse, to create the Britain we know today.