EARTH
Chief Consultant Professor Charles F. Gritzner
610 x 469 mm (18.5 x 24 inches), portrait
580 pages, cased and jacketed
350,000 words
Over 800 photographs and illustrations
355 maps of 194 countries
4 x 6 ft (1.8 metre) Gatefolds
£2,400.00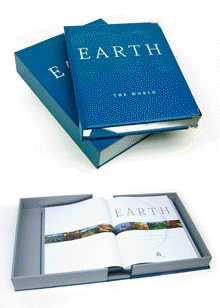 This exquisite limited edition atlas takes cartography to a new level. For the map enthusiast, the collector, the armchair traveller, or for those who enjoy luxury, this beautiful leather-bound edition is a "must-have" for the library. The Royal Blue Collection consists of just 2000 sequentially numbered copies. Highly detailed maps, produced by a team of international cartographers, are the foundation of this book. Each country in the world is described and illustrated in detail, with focus on the geography, history, culture, and unique features.
EARTH also presents four stunning gatefolds measuring 1.8 meters across, including one titled "Earth from the Sky at Night", a stunning image taken by NASA. More than 800 exquisite images were sourced from prestigious picture libraries, including a large number of images taken by National Geographic photographers.
Each copy of EARTH is individually numbered by our calligrapher in Hong Kong and is accompanied by a signed Certificate of Authenticity. EARTH's leather cover is bound by hand with painstaking detail given to each stage of finishing. Gilded pages and a 15 kg preservation case made of hard wood covered in leather ensure this legacy is protected for generations.